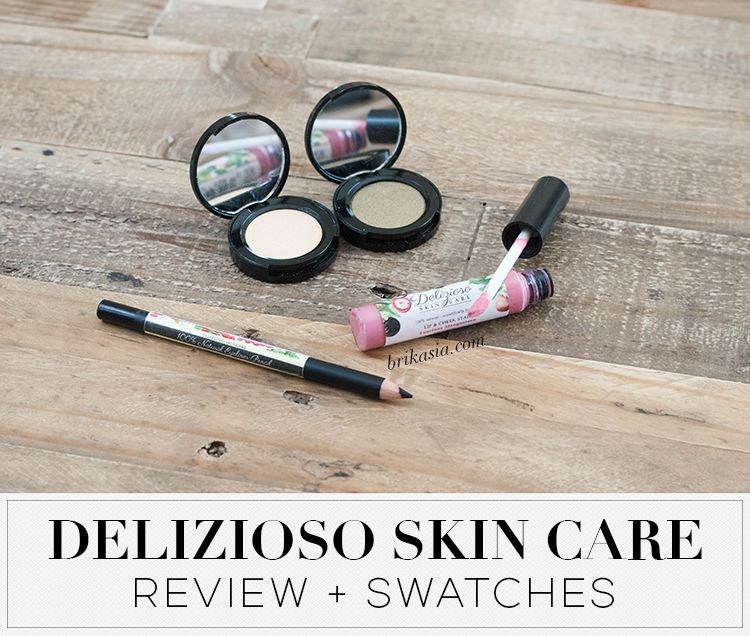 I don't think there are enough words to convey how impressed I am with the green beauty brand
Delizioso Skincare
. I don't see them getting nearly enough love on social media, and you know what? They totally deserve it. This was a totally unknown brand to me, until the gorgeous Tara Mackey of
The Organic Life Blog
released a makeup collection with them. And, thanks to Tara, not only did the wonderful women behind
Delizioso Skincare
send me a few items from Tara's collection, but they sent me a few pieces from the main collection! I am SO excited to share with you guys these products because this totally changed the way I view green beauty.
Let's talk about Delizioso's main collection first. Wow, wow, wow. I can't believe how crazy pigmented everything is. No joke, you guys. I think it would just be easier if I broke everything down piece by piece:
Pressed and Perfect Eyeshadows- I was sent two eyeshadows: Banana and Cinnamon Sticks. I am so glad that they sent me these two colors instead of the typical neutral browns that I'm sent. A yellow and a moss green? AW YEA, YA'LL. I don't wear moss green colors enough, and I had forgotten how much I love that color on my eyes. The yellow eyeshadow adds the perfect pop of color to the center of the lids. And they are so pigmented and silky smooth!
Midnight Black Natural Eyeliner Pencil- Honestly, this is my favorite product out of the whole bunch. This eyeliner is a SUPERSTAR. This is the blackest and smoothest pencil eyeliner I own, and the pigmentation on this baby is incredible. And it stays put all day! This is a definite repurchase for me.
Lip and Cheek Stain in Luscious Mangosteen- I'm currently not able to find this on Delizioso's website, so this product was either limited edition, discontinued, or has yet to be released! Well, I hope it's the latter because this product is just fantastic. The pigmentation is superb- you only need the tiniest amount on your cheeks and lips. Plus, the smell of it is just so sweet and delicious- you almost want to eat it right out of the tube!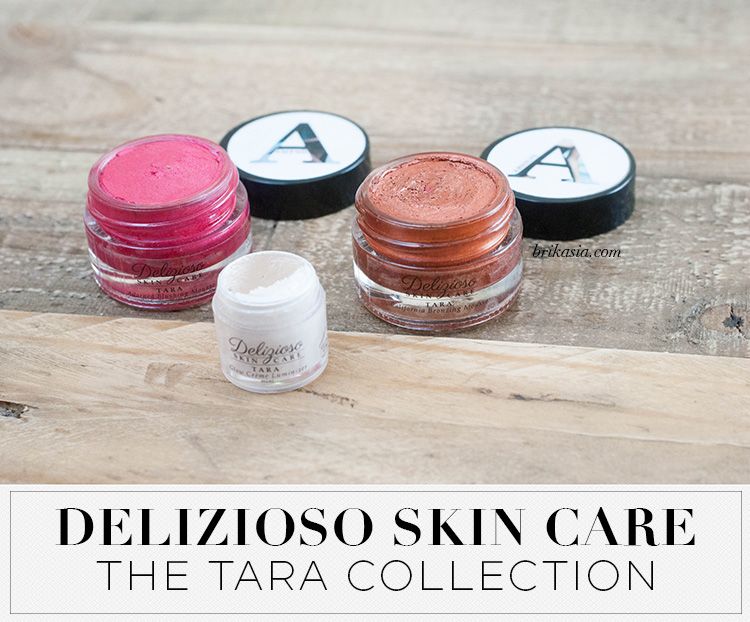 The TARA Collection is just as sweet as the other products I received- literally! The products smell heavily of Madagascar Vanilla- one of my favorite scents ever. Again, you will want to dip your fingers into the products and lick your fingers afterwards, but don't do it! Not because it would be dangerous to do so (these products are totally natural and contain no icky chemicals or toxins), but why waste such beautiful makeup? Also, a key ingredient in these products are prickly pear seed oil- the ultimate beauty oil! What's not to love?
TARA Adorned Blushing Mousse- This insanely pigmented hot pink blush will certainly pack a punch! If you're looking for the perfect statement makeup, then this is it. There is a slight shimmer to the mousse, and a little bit goes a looooong way. I actually really love using this as a lip color- it's the perfect bold hue for the lips!
TARA California Bronzing Mousse- This is the perfect product if you're looking to achieve a nice summer glow. Again, a little bit goes a long way, and this will really warm the face up! I wouldn't use this to contour as it does contain some shimmer and is a bit too orange-hued, but it is perfect for bronzing all over the skin. And there is a ton of product in this little glass container! It'll last forever.
TARA Glow Creme Luminizer- I just received a little sample size of this product, and I honestly think it's all I will need for quite some time! In the container, it looks frosty white. But blended out, it really illuminates the face. I really love using this on the inner corners of the eyes. This would be great to try out the strobing trend!
You seriously receive SO much product in these containers. I've been using them regularly and I've barely made a dent in them! The price point is so great, too. If you're new to green beauty and want to eliminate some toxins from your beauty routine, I think
Delizioso Skincare
is a great starting point. The products are absolutely on point and do not fail to deliver.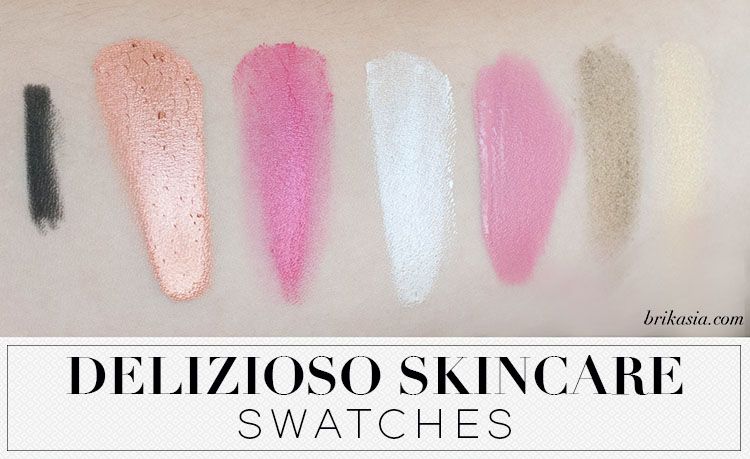 Swatches left to right: Eyeliner, TARA Bronzing Mousse, TARA Blushing Mousse, TARA Luminizer, Lip + Cheek Stain, Cinnamon Sticks, Banana Eyeshadow
So tell me: have you tried anything from Delizioso yet? Got your eye on something here? Sound off in the comments!