Disclosure: This post is sponsored by Pretty in my Pocket (PRIMP) in collaboration with Paula's Choice skincare. All opinions stated are my own.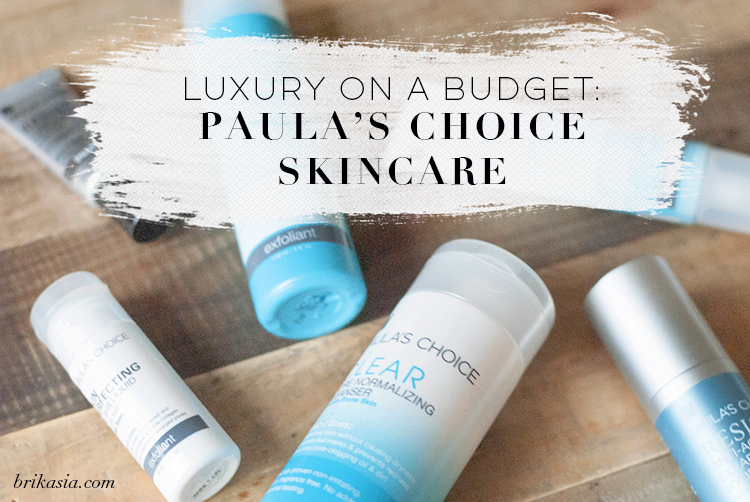 Have you heard of
Paula's Choice
before? I've known about the brand for awhile, and I even know people who SWEAR by their stuff. My skin is pretty sensitive and reacts to new things quickly and easily, so I'm always hesitant to try something new. But after reading so many glowing reviews of the Paula's Choice products, when I had a chance to try the brand out, I jumped at the chance! Paula's Choice is luxury skin care on a budget, and I am so glad that I am a Power Primper for Pretty in my Pocket so I could test their goodies out.
Their product line includes something for everyone and every skin care need: acne, rosacea, anti-aging, pore stuff, etc. Their website is set up nicely so you can browse a menu of skin care concerns that you'd like to treat easily. Their website also has a TON of advice. The founder of Paula's Choice, Paula Begoun, is all about truth in beauty, so you can bet your booty that there are hella articles on just about every skincare concern on their website. Another awesome perk about Paula's Choice skincare? They offer a 100% money back guarantee within 60 days. Also, they do NOT test on animals and there are no irritating dyes or fragrances in their products. Hurray!
Before I even had a chance to go HAM on the Paula's Choice website and buy more things than I could ever possibly need (did I mention their prices are THAT good?), PRIMP hooked a girl up with a personal skincare consultation with a Paula's Choice rep. And here's a fun fact: everyone can get a FREE personal skincare consultation with a Paula's Choice rep! Great skincare for EVERYBODY! Paula's Choice is committed to customer advocacy, education, and helping people find the best products for their skin. Just call 1-800-831-4088 and your rep will hook you up with the perfect skincare regimen for your skin.
My skin is combination and is pretty sensitive to new products. I have terrible acne (thanks a lot, hormones), but I have to be incredibly gentle with how I attack my acne or else I break out even worse (no benzoyl peroxide for me!). I discussed my skin concerns with the Paula's Choice rep, and she explained to me the products she was going to send me and how they would benefit my skin.
In the morning, I keep things pretty simple and just use my
CLEAR Cleanser
, followed by my
CLEAR Exfoliating Solution
, and topped off with the
CLEAR Daily Mattifying Moisturize with SPF.
I've actually been using the cleanser twice a day, as it is super gentle and helps keep the redness away. If I'm not using any other exfoliators, then I use the CLEAR Exfoliating Solution twice a day. I really like this exfoliator (which is a leave on, don't wash it off!) because of the salicylic acid it has. And I have definitely noticed that I'm not breaking out as much, hooray!! And by now I'm sure we're all aware of how important SPF is, so I really like how the CLEAR Moisturizer not only has SPF in it, but is also mattifying and keeps me grease-free all day long.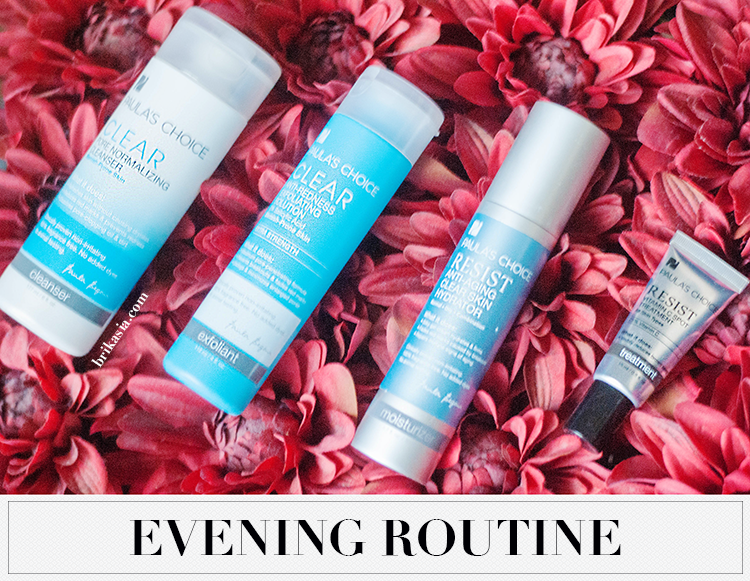 Before I go to bed, my skincare routine gets a bit more dramatic. I start off with the
CLEAR Cleanser
, and depending on the day, I'll use the
CLEAR Exfoliating Solution
again. I also use two other exfoliators throughout the week, but I'll talk about that a bit more in just a bit. After I am done with the exfoliant, I apply my moisturizer, the
RESIST Anti-Aging Hydrator
. This silky, gel-like formula makes my skin feel baby soft, and hydrates just enough without causing any breakouts. After applying it all over my face and my neck, I use the
RESIST Vitamin C Treatment
on top of any red spots or fine lines that I spot.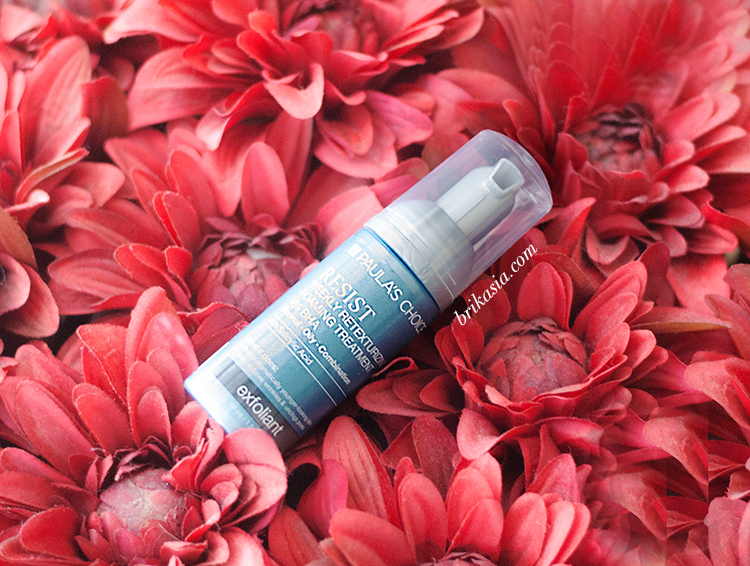 Like I mentioned before, depending on the day of week, I will use a different exfoliant. Paula's Choice also gave me the
RESIST Weekly Retexturizing Foaming Treatment with 4% BHA
. I use this once a week, and because this exfoliant is so strong, I won't use another exfoliant that day. This product helps fade red marks from acne, helps even out skin tone, and thanks to the salicylic acid in it, also helps stimulate collagen in the skin for smoother, more radiant skin.
Similar to the retexturizing foam, I only use this
Skin Perfecting 2% BHA Liquid
on my skin once a week. This product helps minimize pores, and the BHA increases collagen production while also fighting acne-causing bacteria. Sign me up! Did you know that this product is a Paula's Choice best seller? The trial size version of this product (which is the size I have) is available for only $9 on their website. And guys, this will last you a bit of time, especially if you're only using it once a week! It's the perfect size to give it a try and see if you want to purchase the full size bottle. You can get more information on it
HERE
!
Now onto the perks: As a Power Primper, I am offering
20% off + free shipping with promo code
: PRIMP20 to you, my lovely readers. This code expires TONIGHT, July 31st, at midnight EST. I know, I know, it ends so quickly! So move quickly so you can get this awesome deal! Click
HERE
to get this deal. And also make sure you download the PRIMP app so you can get more awesome perks like this one! Download
riiiight HERE
.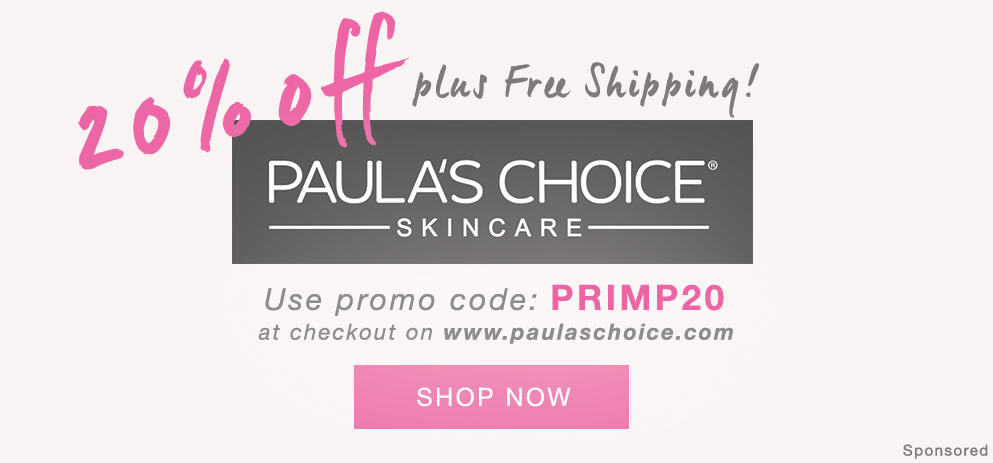 Have you ever tried anything from Paula's Choice? Also, are you on the
PRIMP app
?
This is a sponsored post. Thank you for supporting Brikasia's sponsors so we can continue creating new original content for you! :)