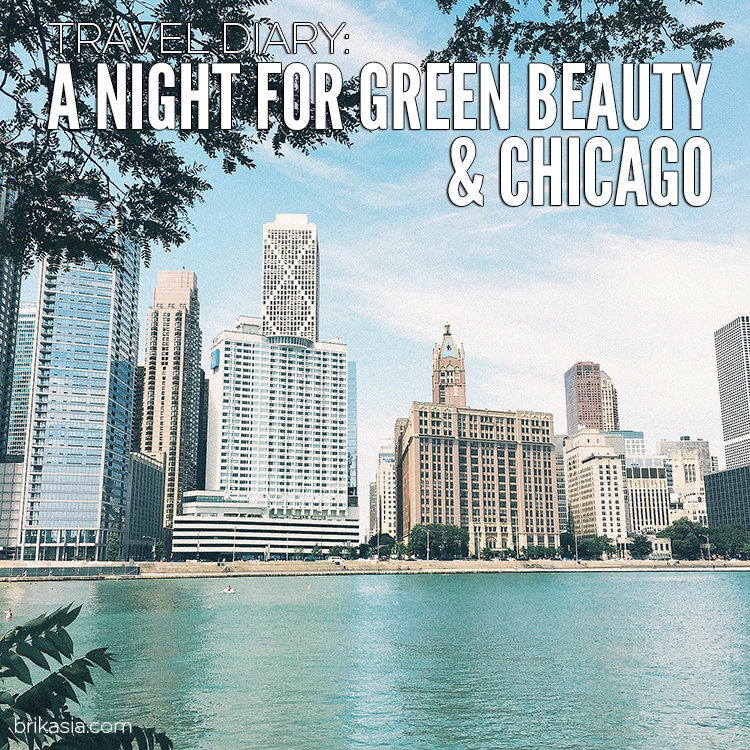 It has been exactly one week since I've returned from Chicago. Kind of sad to think about it! I had such a blast in Chicago. What is there possibly left to say about the city of Chicago that hasn't already been said? I will say this: I went in with low expectations, and I'm pleased to say that I was completely blown away by the city. I can definitely say that Chicago has become one of my favorite cities!
I came to Chicago for
A Night For Green Beauty
, a stunning one-night affair thrown by the incredible Victoria and Karen from
La Bella Figura
. Chicago is their homebase, and they wanted it to be the location of the penultimate ANFGB. I am sad that this will be the last ANFGB, but I am also grateful I was able to be apart of it. I did two makeup looks for
BeauTeaBar
for The Show during ANFGB, which was so much fun. I also met some of the most incredible and inspiring people at this event, and truth be told, it lit a fire under my lil' Puerto Rican booty to really reassess what products I use on my skin and my clients'.
You ready for a full recap and picture overload? Click on through!
I arrived in Chicago on Wednesday morning, the day before the event. I flew in at the same time as Marissa of
BeauTeaBar
, aka my roomie for the few days we were in Chicago, and we embarked on our trip to our hotel,
The James
. I highly recommend this hotel! It was absolutely beautiful, and the location was pretty central to some of the main attractions in downtown Chicago.
We grabbed breakfast at this amazing juice place near our hotel-
Hi-Vibe Superfood Juicery
. We grabbed some cold-pressed juices, acaí bowls (which were EVERYTHING), and cheesy probiotic almonds (sounds weird but GET THESE. You will not regret it), and headed back to the room for a nap since we had both been up since 3am. And seriously, I can't be with people who aren't down for naps, ya feel me?
After the most wonderful nap I've had in quite some time (the pillows at The James Hotel are heavenly), we began to explore Chicago. Confession: the only thing I knew about Chicago was The Bean. For real. I know, I know, I'm ashamed to admit it. And, fun fact: The Bean is actually called the
CLOUD GATE
. Who knew! Anyway, I plugged it into my phone and off we went towards
Millennium Park
!
The walk to Millennium Park was beautiful. We walked through the
Magnificent Mile
(which is known for its shopping), and passed by the beautiful river that flows through Chicago. It was such a nice walk, and it wasn't long until we reached Millennium Park. And at last, I could see the only landmark in Chicago that I knew!
Yea, so the Cloud Gate was incredibly crowded (which really shouldn't have surprised me) and was maaaad dirty, but I couldn't resist snapping a touristy selfie in the reflection of the Cloud Gate. So sue me! After admiring the beauty of this park (have you seen the amphitheater there?? It's insane), we walked down to the little outdoor restaurant in the park and nommed on some appetizers before we headed out to dinner with some green beauty friends in Lincoln Park.
Marissa, Yenny, Stephanie, me, Mia at Cafe Ba-Ba-Reeba
So let's talk about dinner: it was FANTASTIC. We met up with our friends
Yenny
,
Mia
, and Stephanie (well, this was my first time meeting them) at
Cafe Ba-Ba-Reeba
in the Lincoln Park neighborhood of Chicago. Cafe Ba-Ba-Reeba serves authentic Spanish tapas, pintxos, and sangria. Having just
been in Spain this past April
, I can say with certainty that these were very authentic Spanish tapas! And the sangria was so, so good. This is a really cool and fun place that is even more fun when you're having a good time with friends. And what a way to close out our first day in Chicago!
The next day was the day of A Night For Green Beauty. We had a SUPER long day ahead of us. We ate breakfast at
Davanti Enoteca
, where I had some bomb ass eggs benedict. After this, we ran to some day spa that our hotel recommended for blow-outs and well, let's just say it was an interesting experience. I shall not mention the day spa by name, that's for sure. They did a good job, but it was just... interesting. Ha! Don't you hate when a blogger is vague like that? Once our hair was done, it was time to head to
Venue One
to start prepping for ANFGB.
Left: me + Marissa // Right: Laurie, meeee, Mia
I did two makeup looks for
BeauTeaBar
during The Show, which featured models from the different ANFGB sponsors. There was a celebrity makeup artist who made up a bunch of models (heeeey,
Sheri Stroh
!), and it was pretty awesome being able to do makeup alongside such a fantastic artist such as Sheri. My two models were Laurie of
312 Beauty
, and Mia of
BB Life
. They were so much fun! I have been in a mutual Instagram follow/friendship with Laurie for a couple of years now, so it was SO awesome meeting her in person. And I had just met Mia the night before the event, and we really just hit it off so well.
This totally goes without saying, but Laurie and Mia SLAYED on that runway. The lighting wasn't the greatest, so I wasn't able to get any beauty shots of the girls so I could post a full beauty breakdown. BUT, just know that they looked super hot and I'll be recreating their looks here on the blog in the very near future. Hurray!
After The Show was over, The Boutique opened up. This was basically the shopping portion of the event, and it was such a great way for me to decompress after working and stressing all day. Talk about retail therapy! It was great meeting some of the founders of some of my favorite brands (such as Victoria from
La Bella Figura
, Rikita from
Cocovit
, and
May Lindstrom
herself!). I bought a lot of goodies at the event, which I will be reviewing throughout the next few months here on the blog. I was also introduced to a lot of really awesome brands, such as
Gressa
,
Florescent
, and
Mahalo Skincare
.
After spending a few hours at the event, the girls and I (the same crew from Cafe Ba-Ba-Reeba!) ventured out in the West Loop neighborhood to find some dining options. I hadn't eaten lunch, so needless to say I was STARVING. After passing Oprah's HARPO Studios, we came across a bunch of awesome restaurants. We ended up going to
Girl & The Goat
and OHMYGOD. Best meal of the trip. This is a must-do restaurant in Chicago, for sure. What a perfect way to end a perfect day.
Friday was the day Marissa and I were heading back home. So depressing! Before we left, we walked to the
Navy Pier
area of Chicago and took in the beautiful sights of Lake Michigan. Such a gorgeous view! And it was such a beautiful day. This last little trip really solidified my love of Chicago. I would totally move there if it were not for their terrible winters. This Florida gal cannot handle brutal winters, that's for sure!
While my trip to Chicago was super short, it still left such a deep impression with me. I will definitely be returning! I am so grateful to be able to do what I love on a daily basis, and that my passion has taken me to some pretty cool cities across the country. Definitely counting my blessings!
What are your thoughts on the green beauty industry? Have you been to Chicago? Share below!