When I attended A Night For Green Beauty in Chicago last month, I was introduced to a bunch of new-to-me green beauty brands. One of these brands was
Axiology
, and you guys: I fell in love with this all-natural lipstick brand.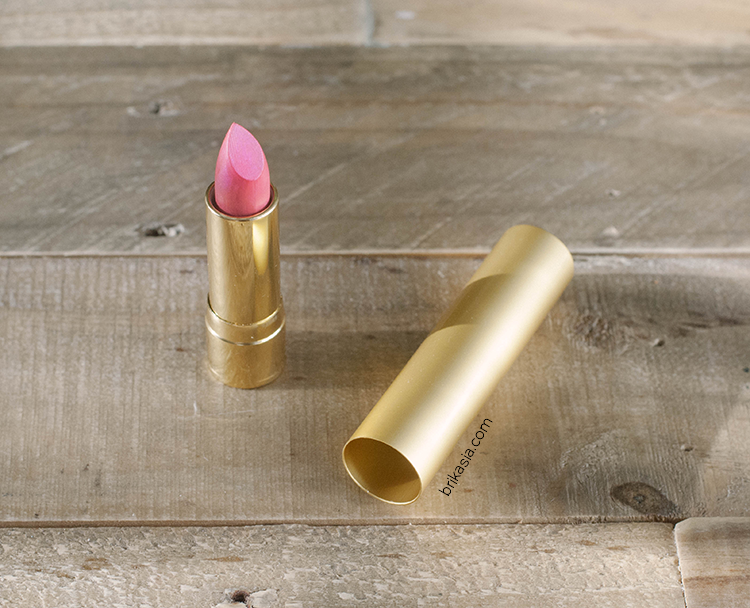 The shade of Axiology lipstick I purchased is
"Attitude"
, which is the PERFECT name for this shade. It is described as a hot pink lipstick with coral undertones with a slight shimmer. I wouldn't necessarily call this a hot pink, but more of a raspberry shade. This lipstick comes pretty pigmented, which is a great feat for a natural lipstick. The lipstick sits comfortably on the lips, and I would say it lasts on my lips for about 4-5 hours.
I am a sucker for packaging- this is no secret. I think packaging is one of the most important aspects of the beauty industry, second only to the actual product itself. A lot of times, however, one must be sacrificed for the other. Sometimes the product is really, really good and the packaging is not that great, or the packaging is amazing but the product fails to deliver. Well, this is certainly NOT the case with Axiology lipsticks. Amazing product with equally amazing packaging? Now that's what I'm talking about. It's hard for me to describe the packaging, so instead I made a GIF to show you how it works: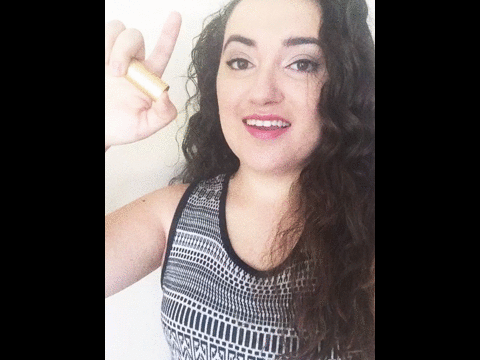 It's like a little clicker!! Guys, it does NOT take much to impress me, ha! And look how pretty Attitude is on my lips! So when you first open up your Axiology lipstick, you get this gorgeous golden case. To get the lipstick out, you click the bottom, and it unlocks the lipstick. Does that make sense? It's a pretty fun party trick to whip out when you're in the mood to dazzle your friends with some green beauty realness, trust me. See, everyone? Green beauty can be awesome, too!
The box that the lipstick comes in is just as cool. I've certainly never seen a triangular box for a lipstick, have you? The story behind these boxes is super cool, too. These lipstick boxes were sourced in Bali where Axiology's founder was visiting. A women-run paper boutique in Bali sources paper collected from all around the island, which is then boiled down to a pulp, laid out in the sun to dry, and then folded and decorated by hand. Pretty dope, eh?
Overall, I am pretty impressed with Axiology. For such a young brand, their branding, packaging, and product is on point. The
lipstick costs $28
, which honestly, for a green lipstick line, that ain't half bad. I highly recommend this product to all of my fellow lipstick fiends out there!
Have you tried anything from Axiology before?